Let's face it – when was the last time you heard someone say "Teams tastes great!"? I bet you can't remember, or more likely, never heard anyone say that before. Most people would describe the taste of Teams as "mechanical", "electrical", or even "worse than my washing machine after it failed to drain the dirty water" – definitely huge adoption blockers.
It's no surprise that one of the most voted for ideas in the Teams UserVoice is the request for a possibility to add a flavour to Teams:

Who wouldn't love that! I'd certainly use Teams at least twice as much if I could taste some earthy chocolate while writing in a Channel, experience freshly plucked grapes during a video call, or have some nice, refreshing lemon sensation lingering on my tongue while I'm collaborating on a document.
The good news is, that Pre-First-Release tenants are now able to set a Flavor per Team directly from the Settings tab! Right in between "Team code" (not used very often) and "Fun stuff" (why would you disable those???), is the newly added "Flavors" section: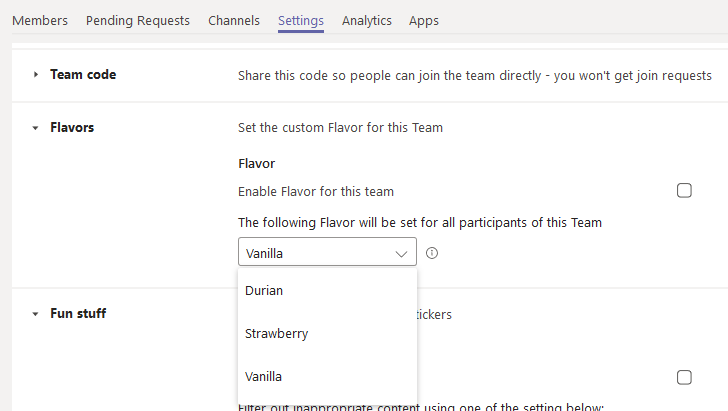 So, once you enable Flavor for your Team, you get to choose between three different options: Vanilla is obviously a good default, but on the other hand too much vanilla can be a bit annoying. Strawberry is also a safe bet, as it is one of the most popular choices for ice cream. However, the addition of Durian is a bit puzzling. While it is also called the "King of Fruits", and is quite popular in Southeast Asia, it has got a very unique taste nevertheless, which is not to everyone's liking. One can only wonder why the engineering team didn't provide chocolate, bacon, red wine, or even sushi as alternatives.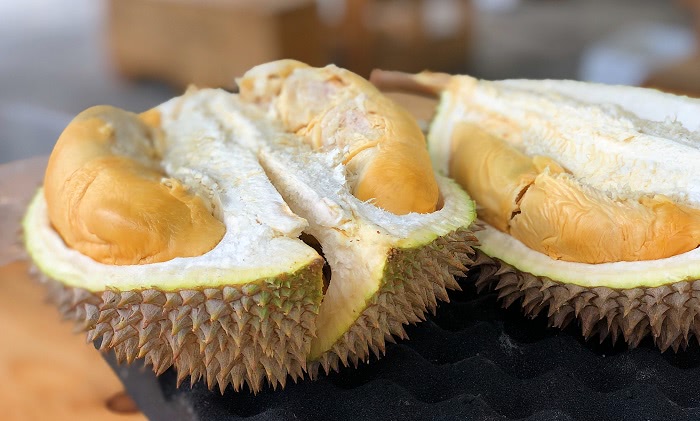 Sadly, this is also already where the possibilities end – at the moment, you can't easily apply a Flavor to multiple teams, turn it on by default, or provide a default Flavor. But who knows what will happen within a year's time – per person flavours (no, I don't want to collaborate in a cinnamon flavoured Team for too long! Let me choose my own), adding your own flavours (freshly baked bread? Tandoori chicken? Surströmming?), or even third party flavours ("Dino's Pizzeria – Best Pizza in town since 1973"). Looking forward to experiencing more innovative features from Microsoft in the months to come!
PS: Happy April Fools' Day!
Photo by Brooke Lark on Unsplash
Photo by Jim Teo on Unsplash