When you use Office 365, there's on thing that's certain: change is constant, new functionalities get introduced all the time, and the pace of updates is much higher than in your own environment. In this post, I'm showing you how you can stay up to date on any changes to Office 365 to ensure that you can provide a great service to your users.
With your on-premises systems, you are in control of what's happening when. You can define when a specific update gets installed, or when you introduce some new functionality. You've got time to prepare for these changes, inform all relevant stakeholders, and you can ensure that an adequate level of support gets provided.
But when it comes to Office 365, it's Microsoft who defines the pace – and they are fast! New features and functionalities, as well as improvements to existing solutions are rolled out on a nearly daily basis – as an example, more than 350 features were introduced between 7/2015 and 6/2015. Some of them may only have a very small impact on your users, but others may make a big difference to your environment and your users. Think about the introduction of Delve – this is not just a small new feature that a few of your users may use, but rather a new way of discovering information for the whole organization. A change of this size and impact needs to be handled properly, and therefore you need to ensure that you (and your organization) are always aware of any major changes that are happening in your Office 365 tenant.
Do you have to stay up to date on every single change introduced to Office 365? As mentioned, there are new changes occurring all the time, which would make it both difficult and troublesome to monitor all of them. In my opinion, it is counterproductive to do so, and it's better to focus only on the bigger changes, especially on those that have a larger impact on your organization.
One other thing to note is that features can get released earlier to specific tenants or users. If you're interested in reviewing new functionalities before the rest of your organization receives them, make sure to enable "First Release" on your tenant for a specified set of users.
How do you manage change? This is something that goes far beyond the scope of this blog post. Most organizations already have some roles and procedures established for this purpose, and managing the change coming from Office 365 would be not much different than the changes that occur elsewhere. If you're still looking for some guidance, here's some introductory material from Microsoft: Change Management for the Enterprise
What follows are some of the Microsoft resources which provide further information about planned, current, and past changes:
Office 365 Roadmap
Get prepared for future changes by looking at what is on the roadmap. Microsoft updates http://roadmap.office.com regularly to show what they are currently working on, what they are planning to release in the upcoming months, and what has been introduced recently. Note that not every single update or new functionality will make it in here.

Office 365 Message center
When you log on to your Office 365 Admin center, you can find the 'Message center' towards the middle of the page. In here, you will find a lot of updates that occurred recently and which have an impact on your environment. Check this regularly to see what has been introduced to your Office 365 tenant recently.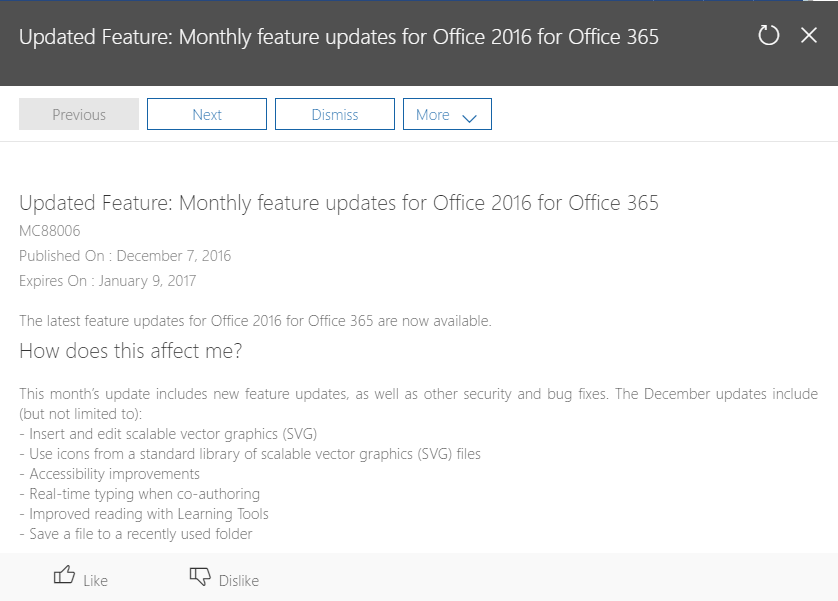 Office Blogs
Lastly, Microsoft also published some general information on new functionalities on https://blogs.office.com/. This is the place where you can find information about new features in a very user-friendly format, so that you can share this information easily with your stakeholders. There is also an RSS feed which you can subscribe to. This way, you don't have to visit the page on a daily basis, but you can get notified whenever there's a new article.