At the Microsoft Ignite conference in September, it was announced that OneDrive for Business would get its own Admin Portal in Office 365. Yesterday, Microsoft finally made it available, even though it's in Preview at the moment. See the official announcement here, and access it at https://admin.onedrive.com.
So what does it include? Some existing settings, such as configuring your sharing settings, as well as new settings like the possibility to restrict access to certain IP addresses. Here's a detailed overview of the current status:
Sharing
In this section, you can control if sharing with externals is enabled, and if so, with which configuration. These are the same settings which currently exist in the SharePoint Admin Portal.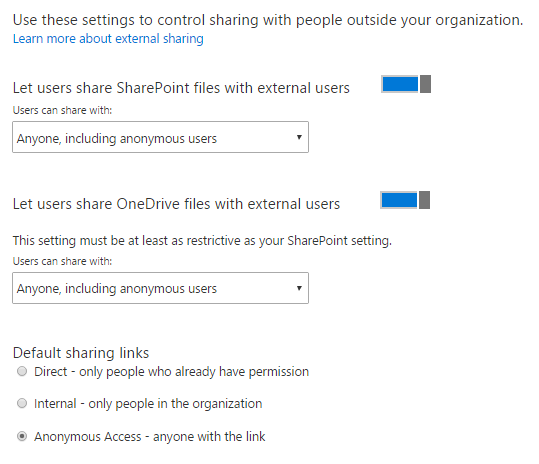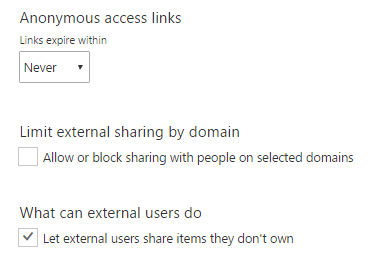 Sync
In the Sync section, you can define a few settings related to the OneDrive for Business client. First of all, whether user can install the client from the website. You can also define if syncing should be restricted to PCs that are joined to specific domains –  to retrieve the GUIDs you need to enter here follow these instructions. This setting is extremely helpful if you want to ensure that your users don't use for example their personal PCs to synchronise content. Lastly, you can also restrict which file types can be synced.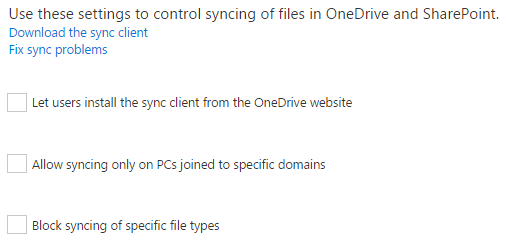 Storage
This is a simple section – define how muich default storage is available for new users, and define how long you want to keep files in a user's OneDrive after his account is scheduled for deletion. This setting could previously be set via PowerShell only, and allows for values between 30 and 3650 days (yes, the maximum retention period is 10 years).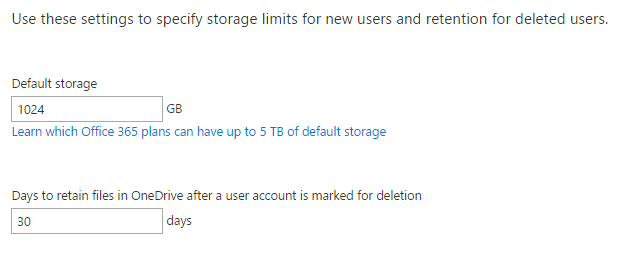 Device access
If you want to control from which devices and locations content can be accessed, you can define specific IP addresses here or define your Intune settings.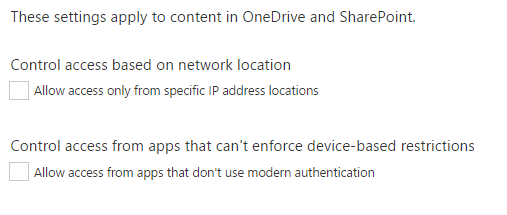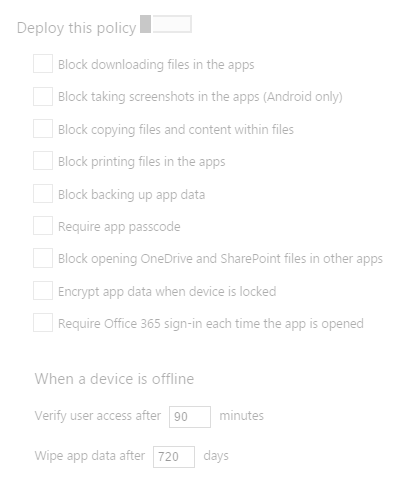 Compliance
Lastly, the Compliance section provides you with a range of links to existing pages where you can define auditing, DLP, retention, eDiscovery, and Alerts settings.